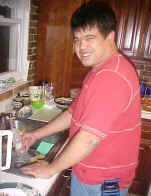 Me Doing Dishes for Thanksgiving
WE NOW HAVE SOME COOL BRITISH SHOW PREP CHECK IT OUT HERE BY CLICKING HERE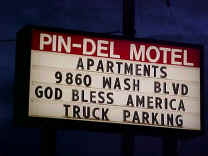 This is what the sign reads as of 9/30/01 on the Pin-Del Motel in Laurel. This is the motel profiled on Dateline where the terrorists stayed that flew the plane into the Pentagon. Dennys is just a 1/4 mile down the road from here.














OUT OF TIME AGAIN!!!
I'm sorry but I've run out of time for maintaining this site every day. I am going to try to update 3x a week and always inform people of great new showprep links. I have been very busy now that I've left radio for the real work force, and my second passion sales, and of course for the 3rd time in my life I've left radio and for the third time in my life I'm making more money than I ever made in radio. But I still love prep and current events so at least 3x a week I will update this site.
I have been spending a lot of time working, and when I'm not working and Jennifer is not working we are trying to spend time together. (after 4 years of togetherness it's almost time to get married and I need to spend more time with her and less time on the computer!!! :) )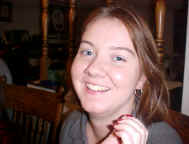 Jennifer At Thanksgiving dinner, yummy

more on my life here
THANKS
Kyle (11/26/01)